Kelvington is situated in one of Saskatchewan's prettiest parkland regions, so snowmobilers who come here are treated to some unbelievably scenic sledding. The active local club does an excellent job keeping all the nearby trails in peak condition. They host events and support their community in various ways throughout the year. They also have created a Junior Trailblazers club which is becoming very popular!
The Kelvington Trail Blazers snowmobile club keeps the trails groomed and ready for sledders of all ages and experience levels.
To contact the Trailblazers and for more information, please see the below link: 
Kelvington Trailblazers On Facebook
Kelvington, Saskatchewan snowmobile trail map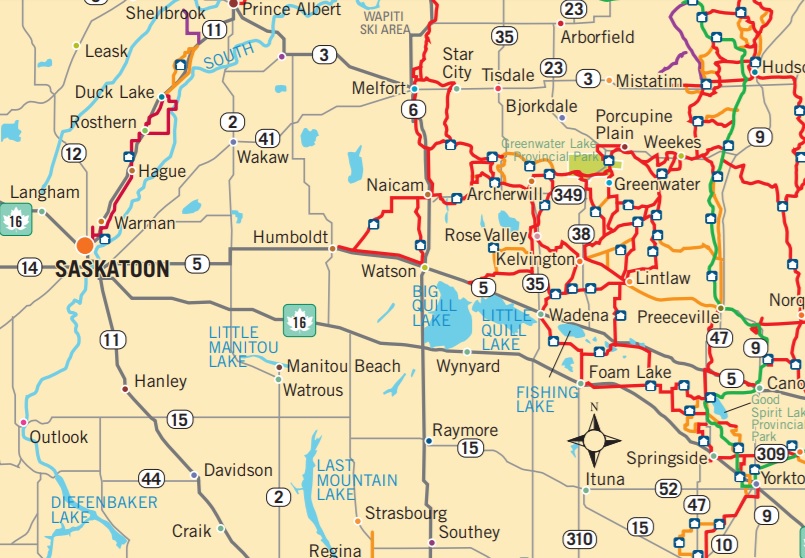 Top snowmobile trails in Kelvington, Saskatchewan
East central Saskatchewan offers several impressive sledding trails, which are all well-maintained. From bush riding to open meadows, you can plan a varied and exciting ride in this gorgeous area. The Kelvington Trailblazers maintains about 400 kilometres of terrain, having taken over more than half of the Lintlaw riding network when the village's local club disbanded.
There are a number of shelters dotted along the routes, so you will have ample opportunity to stop and warm up if need be.
The Lintlaw riding area near Kelvington, Saskatchewan
Take a 15-minute drive from Kelvington to find the coveted Lintlaw trail system. Riding north from the village of Lintlaw (you can use Lintlaw Service or the hall in Lintlaw as staging areas) will take you to wide, well-groomed trails. You can sled through the bush, on rolling hills or up old logging roads – there is a healthy mix of terrain that is suitable for family riding.
The most popular shelter in this area is the Assiniboine Shelter, which you can reach by taking the 211C north from Lintlaw.
The Greenwater Lake Provincial Park near Kelvington, Saskatchewan
Another nearby riding area is the Greenwater Provincial Park. Sledders come from all over Saskatchewan to ride here. They have access to more than 100 kilometres of snowmobile trails in the park, and can connect to the provincial trail networks, as well.